We're sorry, the offer you are searching for has expired.
Virgin Wines is all about hand-crafted, international wines that are anything but dull. So we don't do mass-produced plonk or overpriced names. No complicated lists or snobby sommeliers either.
What do we do? We bring you the good stuff, hassle-free. Did you know that most wine buyers rarely travel? Crazy. Ours have sky-high standards (we fly them everywhere, they taste 1,000s of wines). You enjoy the wines that make the cut, delivered to your door, with a 100% money-back guarantee. Just to keep things simple.
So. Ready to drink some wine?
Go to the homepage now.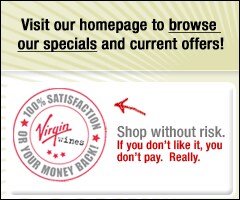 : Virgin Wines AU | Attn: Customer Service| Reply Paid 585 | Suite 105 | DARLINGHURST, NSW | 1300 |