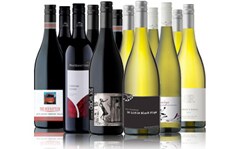 Grab yourself a wonderful selection of best-selling bin-ends. The wines we know you love for $137.88 – fill your boots!

Type: Sauvignon Based Blend
This premium blend of Sauvignon Blanc and Semillon conveys the fragrant tropical fruit of Sauvignon Blanc together with the citrus and richness of Semillon. The result is a delicately balanced wine with great fruit intensity.

Type: Sauvignon Blanc
Deliciously vibrant in the glass, Sail is bursting with aromatics of fresh green herbs and fruity characters. This particular Sauvignon shows a clarity that can only be explained by our winemaker's ability to leave the wine to its own devices.

Type: Grenache
Prepare to be surprised with this cheeky French number. From a producer acclaimed for his Chateauneuf-du-Pape, this may not carry the same price tag but you can really tell it had the same care and attention put into it!