Act now to scoop 15 of the richest, deepest Aussie reds around, each one the perfect partner for when the temperature drops.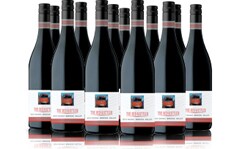 Grab yourself a wonderful selection of Red Rattler Shiraz 2013 as part of our bin-end bargain offers - don't miss out.

Type: Sauvignon Based Blend
From a small Victorian winery founded by Italian settlers Mario and Aurora Littore in 1953. Sons Vince and David are in charge of winemaking and they've added a twist on a classic Italian style.
Write the first review

Type: Grenache Based Blend
A blend more commonly associated with the great wines of Chateauneuf-du-Pape, this Barossa Valley Grenache, Shiraz, Mourvedre is a fruit forward, spicy red that shows excellent balance, lithe tannins and incredible length.