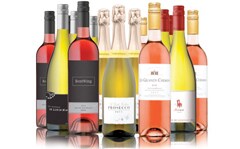 Reserve your delicious selection of fridge-door favourites! This variety-laden case is stuffed full of boutique gems for just $11 a bottle.
Type: Shiraz
Come taste a wine that adheres to exactly what is en vogue in the Aussie wine industry night now. A full on Shiraz that will send your taste buds into over drive – pick through flavours of Mocha and dark fruits.

Type: Chardonnay Based Blend
Delicious, bready sparkling from the team at McPhersons who aim to make approachable, clean fizz using the Rolls Royce of grapes!