Type: Grenache Based Blend
A wine greater than the sum of its parts … you will love this classic Rhône blend of Grenache, Shiraz and Mataro, which, when they come together, help to frame a delicious 'story' ... hence the name!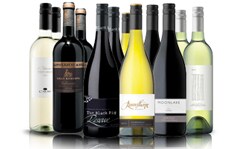 From the finest barrels of each vintage comes this luxury mix of classic local wines. You'll note crowd favourites like The Black Pig Barossa Valley Reserve GSM, Moonlake Clare Valley Shiraz, Silenus Reserve Adelaide Hills Sauvignon Blanc and more!

Type: Pinot Noir Based Blend
With its famous biscuity-nose and idiosyncratic label, this is one of the world's most famous Champagnes. In 2012, it was awarded 92 points by Wine Spectator. Perfect for special occasions!