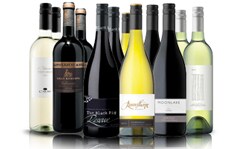 From the finest barrels of each vintage comes this luxury mix of classic local wines. You'll note crowd favourites like The Black Pig Barossa Valley Reserve GSM, Moonlake Clare Valley Shiraz, Silenus Reserve Adelaide Hills Sauvignon Blanc and more!

Type: Shiraz Based Blend
Teusner's formidable ancient vine, Barossa red now with a shiny new Gold medal!