Type: Cabernet Sauvignon
Las Tijeras offers a new set of superb wines from a 4th generation family-owned winery, in the heart of Chile's Maule Valley. We worked excitedly with winemaker, Renato Guerra, to get the wine exactly how we wanted.

Type: Chardonnay
Mt Jagged was established by husband-and-wife team Tom and Bridget White in 1989. Their vineyard sits at 350m above sea level, giving a perfectly suited cool climate for producing fresh, crisp, zingy whites.

Type: White Blend
Song & Dance champions the ultimate celebration wine - sparkling white. Perfect for upcoming summer fun, this wine is a winner as an aperitif or with salads.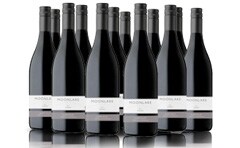 We begged, we pleaded, we pulled strings… all to get more of the concentrated, succulent Moonlake Clare Valley Shiraz for you!