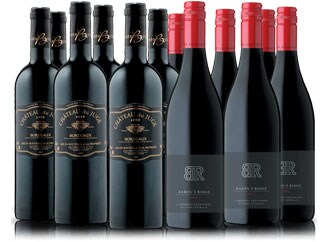 Champion vs Challenger
Our latest heavyweight varieties go head-to-head.
"2009 may turn out to be the finest vintage I have tasted in 32 years of covering Bordeaux" Robert Parker – Wine Critic
Baron's Ridge is the beneficiary of careful site selection and winemaking practices, both of which contribute to a classy, opulent Margaret River Cabernet Sauvignon.
These truly are two unmissable reds. The first, Bordeaux's glorious Chateau du Juge from the "best ever" 2009 vintage goes up against Baron's Ridge Cabernet 2011, a wonderful and bright red from Margaret River and packed full of cassis and herb tones.