Monos Locos Sauvignon Blanc 2011
One of our best value wines.
Perfect for social drinking. This wine is a real crowd pleaser.
Great on it's own or with most foods.
Try this over a Sunday lunch with friends - serve this before the meal, the lively crisp fruit will get your guests appetites going. When the food arrives our Monos Locos Sauvignon Blanc is a perfect partner.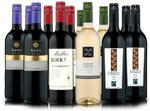 Taste the very best from the international new world of Chile and South Africa. Four exciting new discoveries that can be yours for an amazing $155 – with a saving of over $36.