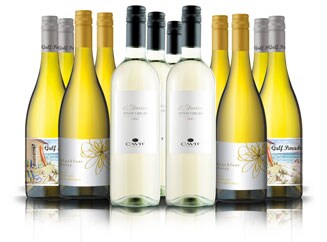 Pure Pinot Grigio
A refreshing selection of our finest Pinot Grigios – crowd favourites that'll match perfectly with fresh summer foods.
Fragrant, pungent and packed with flavour, these Pinot Grigios are full of intense and fruity tones.
A truly amazing price for quality like this – just $10.83 a pop!
Bursting with flavours of honeysuckle, a citrus and tropical fruit, Pinot Grigio is the ideal style to bring the temperature down on those hot, sticky summer nights. If you're looking for great Pinot Grigio then look no further - I have chosen our best, most refreshing versions and knocked over $65 off their normal retail price.