Sorry, we are unable to add this product to the cart. Please try again or call customer service.
You have added:

Item Code:
Item Price:
Quantity:

Cart Summary:

Lavish, profound and complex – simply magnificent Barossa Shiraz!
Rich, unmistakable Barossa Valley flavours, with the finesse typical of this 'Exemplary estate.'

Australia

Shiraz
BUY A CASE -
SAVE up to $204.12
Synonymous with celebration and style…
Moet and Chandon is still today, and more than ever before, the symbol of pleasure, grandeur and pure celebration. Enjoy with your friends and family, they will love you all the more!

France

Chardonnay Based Blend
Zippy, Gold-medal Sancerre handcrafted at an award-winning family estate
See how the French do Sauvignon Blanc! A stunner from one of their most famous Sav Blanc regions, vibrantly minerally and crisp.

France

Sauvignon Blanc
Low Stock - 20 bottles left
*

With any other 12 bottles ordered

Outstanding, single-vineyard Reserve Chardonnay
The Schiavello family's incredibly small, boutique estate, surrounded by pretty rolling hills and billabongs, "continues to produce high quality wines" (Halliday) and their richly flavoured Chardonnay is a perfect (and delicious) case in point.

Australia

Chardonnay
BUY A CASE -
SAVE up to $276.12
Gold-medal Rioja Reserva from the 'excellent' 2010 vintage
Primicia Carravacas Reserva is always a cracking Rioja. Even more so when its flavour, depth and complexity are amplified by an 'excellent' vintage like 5-Star 2010. Patiently aged in barrel and bottle, this is nearing its mellow drinking peak.

Spain

Tempranillo-based blend
Low Stock - 85 bottles left
*

With any other 12 bottles ordered

A Torbreck great – "rich, velvety, mouthfilling and sensuous" – 96 pts
The RunRig has drawn comparison with the beautifully fragrant & tautly structured wines produced from the slopes of the Northern Rhône Valley's Appellation of Côte Rôtie.

Australia

Shiraz
Low Stock - 38 bottles left
Majestic 2010 Bordeaux, glittering with Gold and wreathed in acclaim
"An elegant style of Bordeaux, with loads of tobacco smoke and tobacco leaf, red and black currants" Robert Parker, Wine Advocate

France

Cabernet Based Blend
*

With any other 12 bottles ordered
Lush, deep, Clare Valley red from Neil Pike with 94 points – don't miss this!
"This is a deep set wine, crammed with asphalt, caramel and bay leaf flavour, the finish grandly (and warmly) tannic. Heavy wine in a heavy bottle ... 94 points" (Halliday).

Australia

Shiraz
Low Stock - 23 bottles left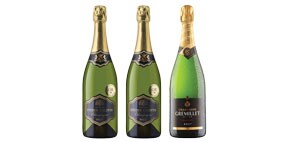 Top Champagne Trio
"Remember gentlemen, it's not just France we are fighting for, it's Champagne!" So said Winston Churchill. Obviously a Champagne lover, he would've loved this sumptuous mix … so will you!

Indulge in a silky, fine Burgundy from a spectacular vintage
We were very pleased to secure this red Burgundy, courtesy of Bernard Moreau, at such an attractive price. Textbook cherry flavours with a dash of creaminess.

France

Pinot Noir
Low Stock - 20 bottles left
*

With any other 12 bottles ordered